September 17th



Dear Teddy,

I miss you. The idle conversation of my well-meaning friends means nothing now that I have found love. How can I survive without you and your ever-changing hair, my dearest? Perseverance, I suppose. But food does not sustain me; drink does not quench my thirst. Oh! These words, too, do not justify these emotions which run amuck in my soul.

Write soon.

Yours,
Victoire



September 20th



Teddy, my love,

I suppose you must be busy. I understand. The teachers here take for granted my desire to study and make good marks; I believe that their souls have run dry and that none of them have loved as we have loved. My days are filled with homework and thoughts of you. Memories of your turquoise locks torment my soul! Sometimes I want to travel out to the moors and cry your name to the wuthering wind, so that it may carry words of my adoration to your ears.

Write soon.

Yours always,
Victoire



September 27th



Dearest Teddy, my shining star,

I miss you. A week has passed since my last letter to you, and these past seven days have been torture to a soul so bruised with love and tenderness as mine. Where are you, my dearest? What fate has befallen you, that your sweet words do not reach my eyes? You must know that I cannot live without you! Temptations have put themselves in my way; my friends have told me that I must move on without you eternally at my side. How much longer shall I endure this, my only, my lovely? Oh, that I was with you now instead of trapped inside the prison-like walls of this house of pedagoguery.

Write soon.

Yours always and forever,
Victoire



September 30th



Teddy,

WHERE THE BLOODY HELL ARE YOU? ANSWER ME, YOU IDIOT.

Victoire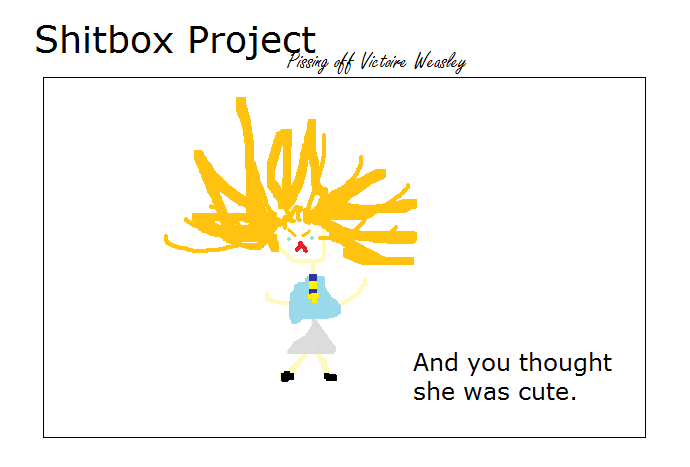 September 30th



Teddy Lupin is not available at the moment, but if you leave a message after the hoot, he will be sure to get back to you shortly.



~*~

September 28th



Dear Teddy,

Hey! How are you? Hogwarts sucks even MORE without you here, can you imagine? At least I can play Quidditch this year. The captain let me straight on, sort of, cause of Dad and all. Pretty cool, yeah?

Last week my friends and I found this loo on the seventh floor where the toilets explode. We locked Albus and his stupid friend Scorpius Malfoy in there and I swear I haven't laughed that much in AGES. We were planning to let them back out straightaway, really we were, but your stupid girlfriend came and took points off us anyway.

Rose reckons Victoire is heartbroken, by the way. Don't know why she'd think so, I mean, you're an all right chap, a girl couldn't be all that sad about having you for a boyfriend, I don't think. Unless you're really bad at snogging or something. You aren't, are you? See, I wouldn't be able to tell, cause I'd have to be on the other end of the snoggage. I wouldn't know how to judge, either. It looks like mostly spit to me, which is gross, really. I don't see the point of snogging.

Hey, my dad says he's going to come see my first Quidditch game. You should come too! It's in October. Please please please say you will?

- James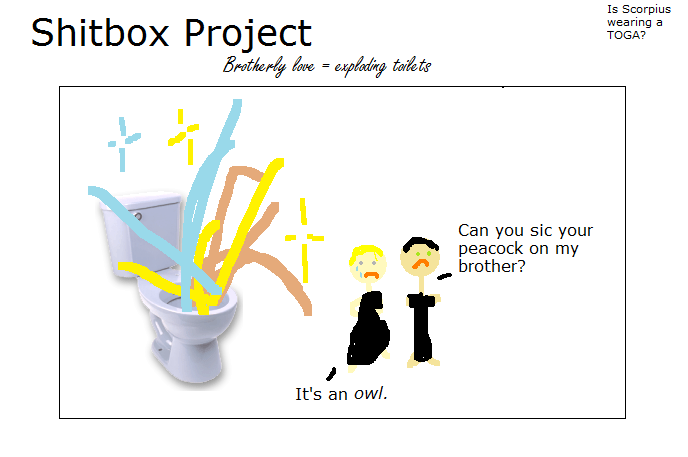 September 29th



Dear James,

Hi! I miss you too. I hope Hogwarts is treating you much better than you say it is; I wish I was back there with you. Don't let the staircases eat you, mate.

Victoire's a prefect, I reckon she's got a quota to fill, re: taking off points from you and your mates. I'm glad I never was one. I don't think it really would have been my type of thing anyway. I'm much too nice; I'd see someone doing magic in the halls and I'd ask them what spell it was they were using.

Snogging has its merits, I assure you, but as much as I like you I don't know if I really should explain said merits to you just yet. Ask me in a couple years, all right? (And tell Rose she hasn't got any idea what she's talking about--Victoire's been writing me and she's perfectly fine.)

I'll be there in the Gryffindor stands, cheering you on.

--Teddy

P.S. Don't tell Victoire I wrote you, all right? -T.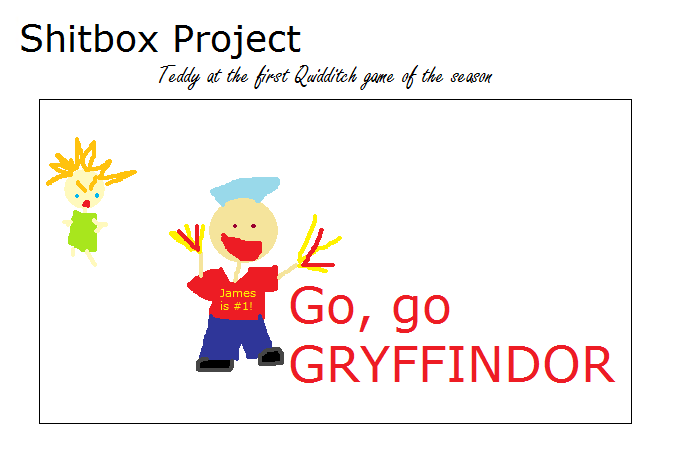 September 30th



Rose,

Think you could lay off the unfounded accusations?

Teddy



October 1st



Teddy,

Maybe you should tell your girlfriend that you are a HUGE, FABULOUS GAY MAN.

Rose

P.S. Suck it.